Experience a drug-free migraine treatment today
Get back to life with CEFALY: the FDA-cleared migraine treatment device that can relieve pain and give you more migraine-free days. With no prescription needed, this simple-to-use medical device targets the trigeminal nerve to treat acute migraine attacks quickly and prevent future episodes.

CEFALY is safe and effective, with no serious adverse side effects reported in any clinical study. At last, you can treat migraine without the forgetfulness, grogginess, and other bothersome side effects that come with some medications. Don't let migraine keep you from doing the things you love! Order CEFALY today.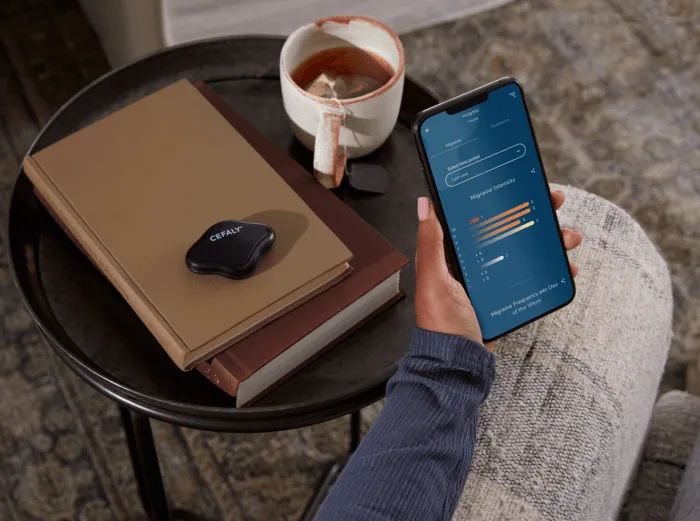 Migraine pain relief and prevention in one device
Worn on the forehead, CEFALY uses a mild electric current (e-TNS) to stimulate and desensitize the trigeminal nerve, the primary pathway for migraine pain.

With CEFALY, you're in control of your migraine treatment:
Use the ACUTE treatment mode to relieve pain at the first sign of a migraine attack.

Use the PREVENT treatment mode daily to decrease migraine frequency.

Optimize your treatments by tracking sessions on the CeCe app with the Bluetooth-enabled CEFALY Connected.
Trusted to relieve migraine pain since 2008
CEFALY has treated more than 2 billion migraine attacks to date. Multiple clinical trials have shown that CEFALY is an effective, safe and drug-free migraine treatment with minimal side effects.

of CEFALY users saw migraine pain relief following one hour of ACUTE treatment. 32% of CEFALY users saw pain freedom.

of CEFALY users saw at least a 50% reduction in migraine days following daily use of PREVENT treatment.
Buy your

CEFALY

device
As seen on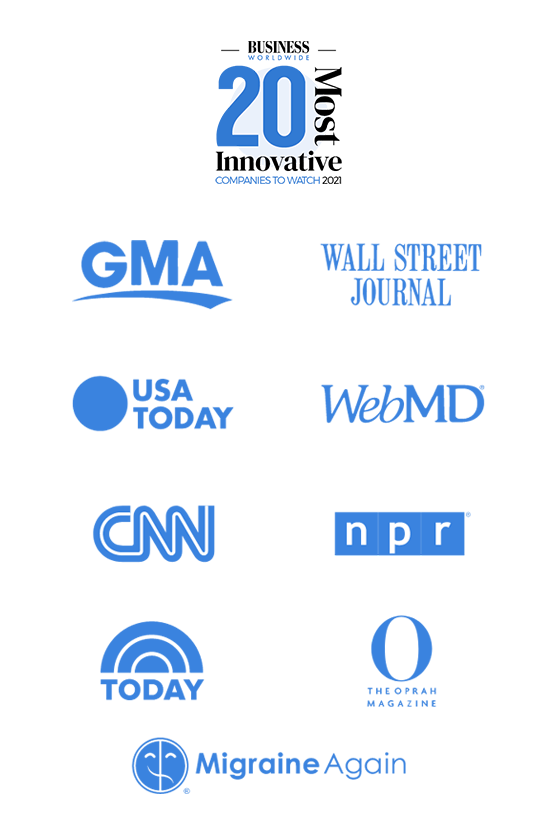 Recommended by
healthcare professionals
"My patients regularly tell me that CEFALY takes the edge off migraine, enabling them to get back to their daily routine. Now available over the counter, CEFALY is much more accessible for patients without needing a prescription from their clinician."

"CEFALY has really answered that call for many of my patients. It's fantastic that it works as a preventative and an acute option, sometimes eliminating the need for multiple drug prescriptions."

"I have been using CEFALY devices in my clinical practice for a few years now both as migraine prophylaxis as well as one of the acute/rescue options. I am very pleased with the results."

"CEFALY efficacy data in our real world practice are not only replicated, but safe. The CEFALY DUAL is an effective abortive and preventive therapy as monotherapy and as well as combined."

James A Charles, MD, FAAN, FAHS
"I LOVE the CEFALY device! It is so helpful to have a non-invasive and non-medication way to improve a headache. My patients and my headache clinic team alike love having this option in our toolbox to beat a migraine."

Learn about migraine, discover migraine prevention strategies, and get tips for using your CEFALY for maximum migraine relief.
The blog post provides strategies for managing migraines at work, including tips on communication with colleagues and employers, as well as practical advice on creating a migraine-friendly workspace. Learn more.
Many people are a little nervous when they try CEFALY for the first time. They wonder: What does the stimulation feel like? Will I be able to tolerate it? Does CEFALY hurt? Learn more.
Get the CEFALY Connected
Gain new insight into your migraine treatment journey. The Bluetooth-enabled CEFALY Connected allows you to optimize your treatments by tracking them on your phone.