About CeCe
Wish you had a simple, intuitive way to track your migraine triggers and symptoms? Meet CeCe - a migraine management app that helps you better understand your life with migraine.
You already know that keeping a journal can help guide your treatment plan and prevent attacks. But that's not as easy as it sounds. Not everyone has the time to craft an elaborate migraine diary.
Many migraine apps are just too complicated to use. That's why we created CeCe: an intuitive way to log your migraine triggers and symptoms and recognize trends over time.
CeCe is private - your personal information is stored securely and never shared with any third party. It's free and easy to use, with migraine-friendly design, no in-app purchases and no ads or clutter
Use CeCe to…
Identify your triggers
See how your attacks evolve
Recognize trends in your migraine attacks
Track treatment effectiveness
Keep a detailed migraine journal
CeCe Features
Real-time logging of migraine attacks and treatments
Personalized interface that simplifies migraine tracking
Individual insights, such as trends in triggers and timing
Optional reminders to help you adhere to your treatment plan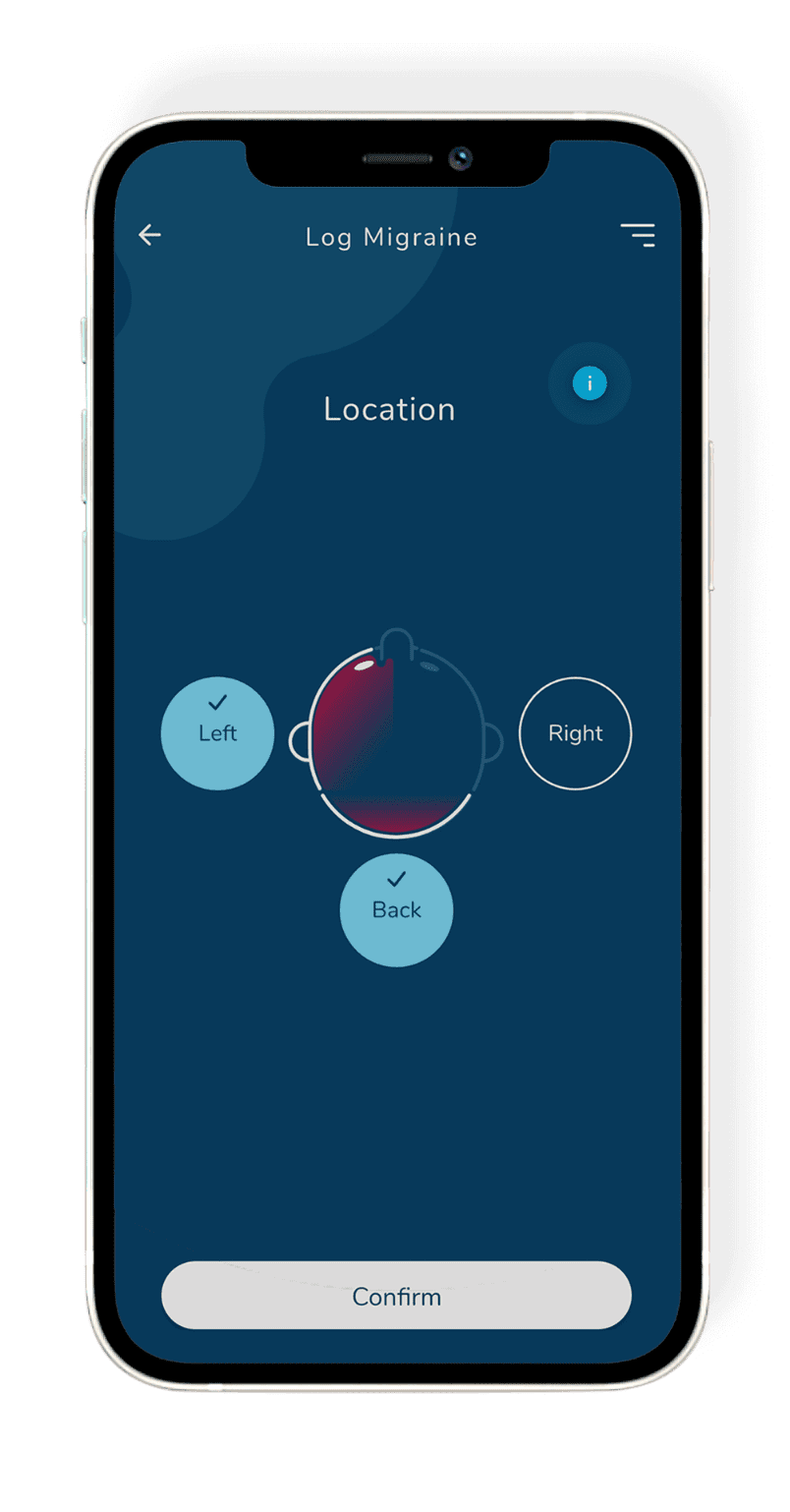 Get Ahead of Pain
Change the course of your migraine
Log | Track | Learn | Prevent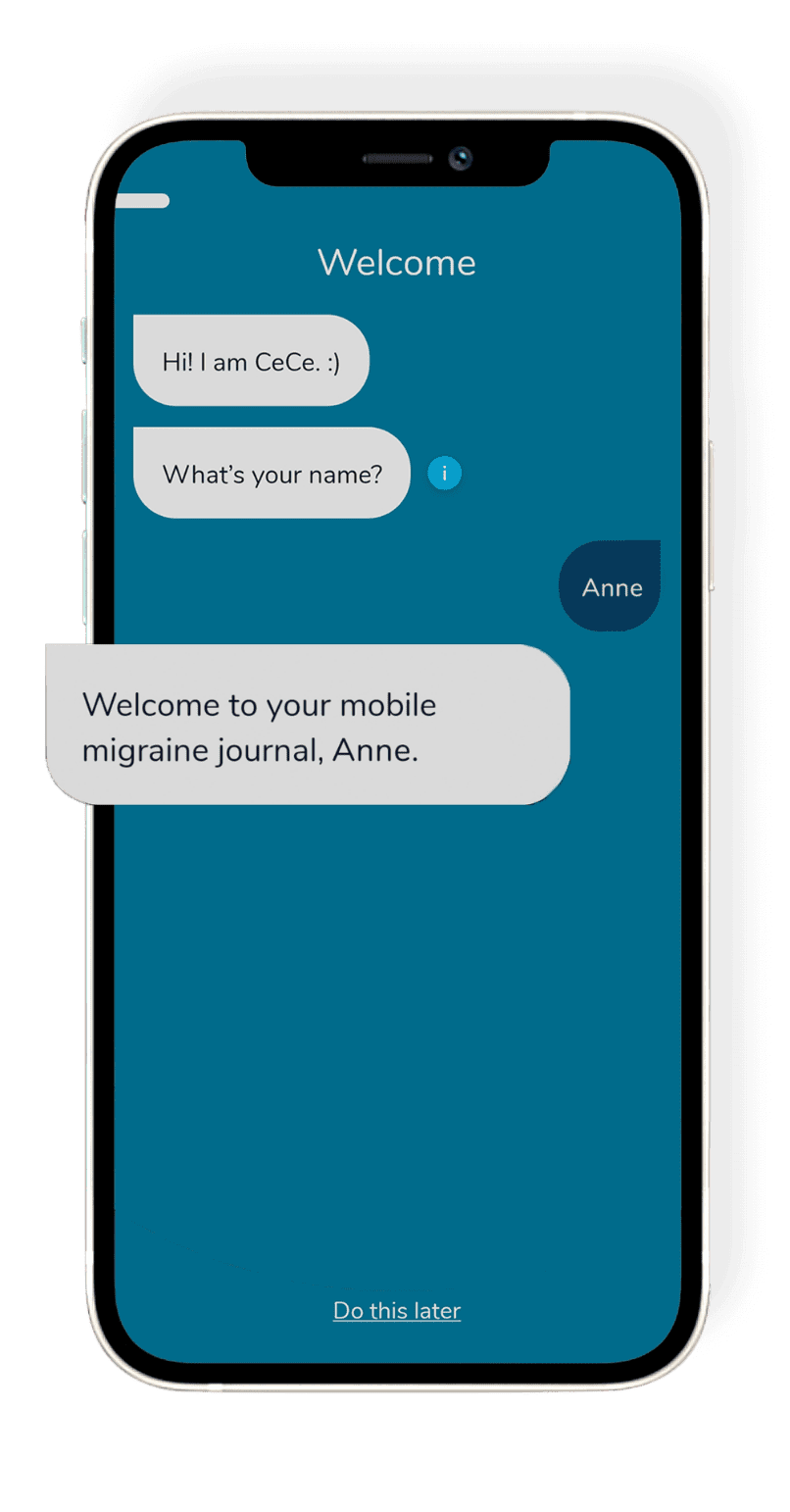 Make It About You
Track what's most important to you.
And see your insights in a new light.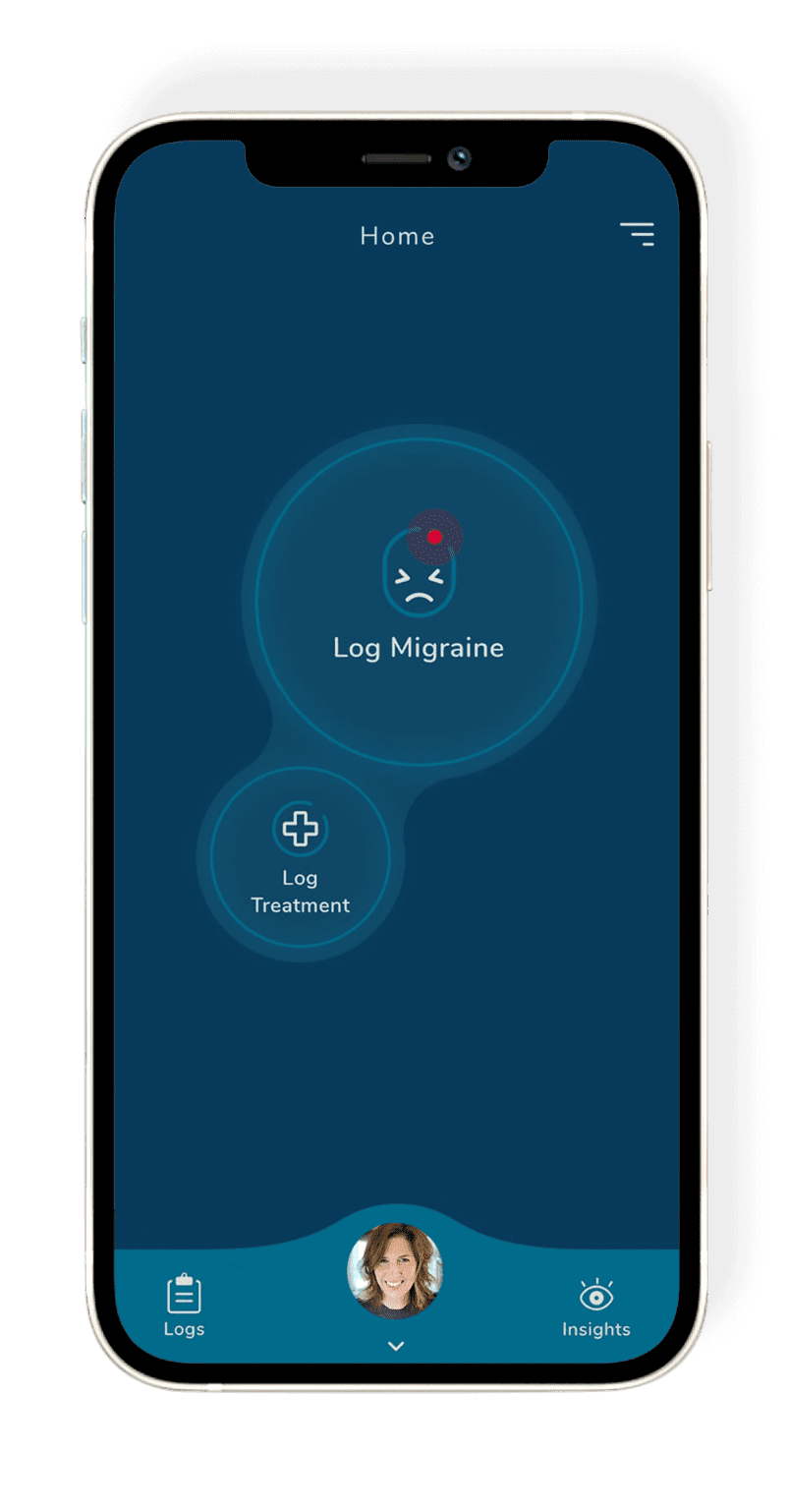 Keep It Simple
A clutter-free layout that's easy on the eyes.
Logging won't feel like a chore.
What CeCe Users Are Saying
"Learning and understanding your migraine patterns is central to pursuing individualized migraine treatment and therapy. The CeCe app is an excellent tool to track, record, and share your migraine information with your healthcare provider."
~Dr. Johnson
"I've been using my Cefaly device for 6 months now and it's literally restored my daily life. I wish I could gift one to every fellow migraine sufferer! The one thing I was missing is a daily tracking app to go with it. With the new CeCe app, I have everything I need now to manage and conquer my triggers – and accelerate my progress on my journey to finding ME again."
~Carmine
CeCe Benefits

Discover Your Triggers
You might be surprised what actually triggers your migraine.

Discover Your Triggers
You might be surprised what actually triggers your migraine.

Log Your Treatments
Track all your treatments and take the guesswork out of what works for you.

Log Your Treatments
Track all your treatments and take the guesswork out of what works for you.

Track Your Symptoms
Learn how your symptoms may change over time.

Track Your Symptoms
Learn how your symptoms may change over time.

Stay On Track
CeCe can gently nudge you to remember your treatments - one less thing to worry about!

Stay On Track
CeCe can gently nudge you to remember your treatments - one less thing to worry about!

Record Migraine Attacks
Log when your migraine starts, then answer easy questions about it after it's over.

Record Migraine Attacks
Log when your migraine starts, then answer easy questions about it after it's over.

Use Your Words
Create private journal entries for treatment and migraine logs to remember the details.

Use Your Words
Create private journal entries for treatment and migraine logs to remember the details.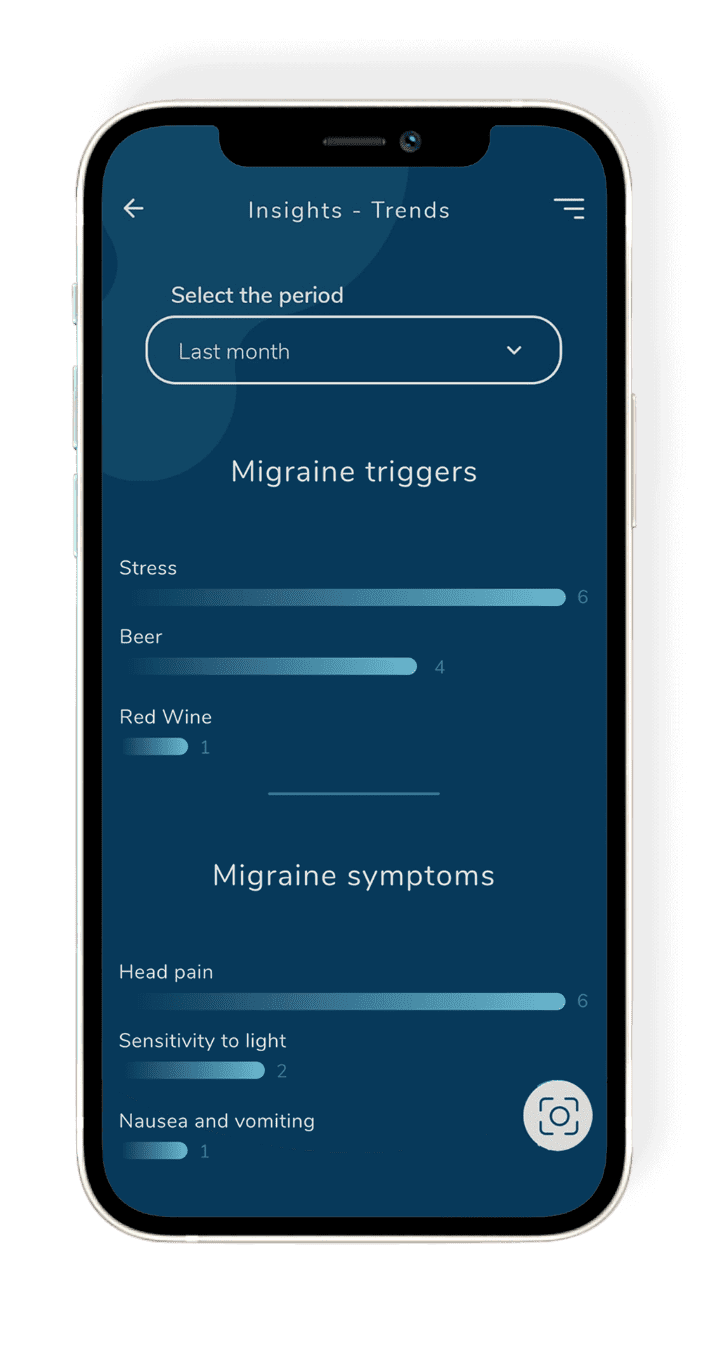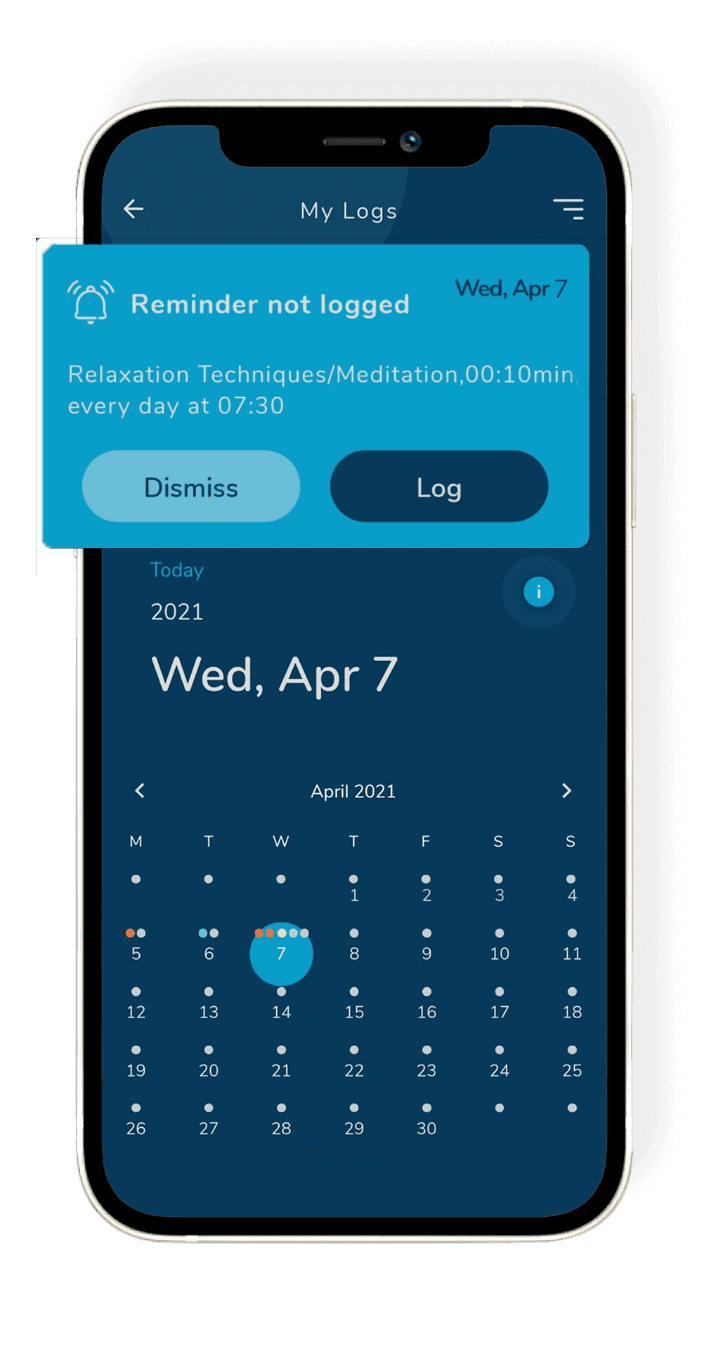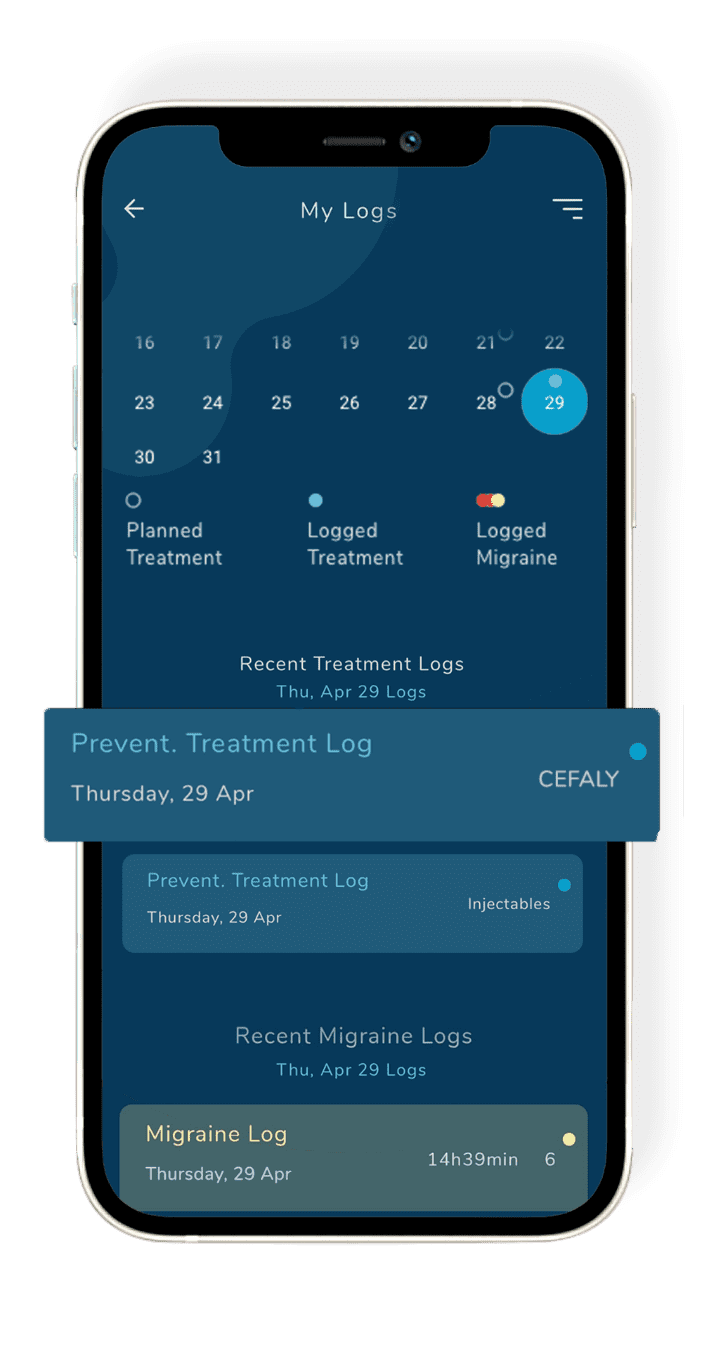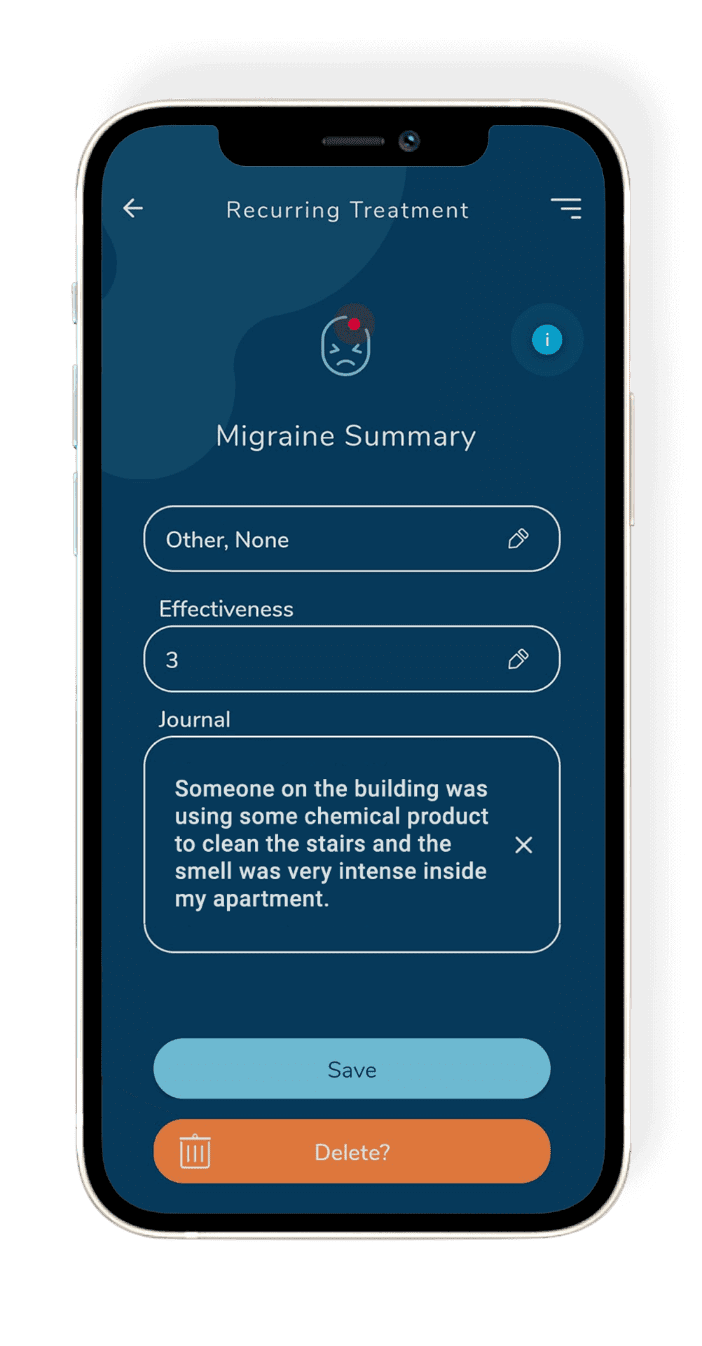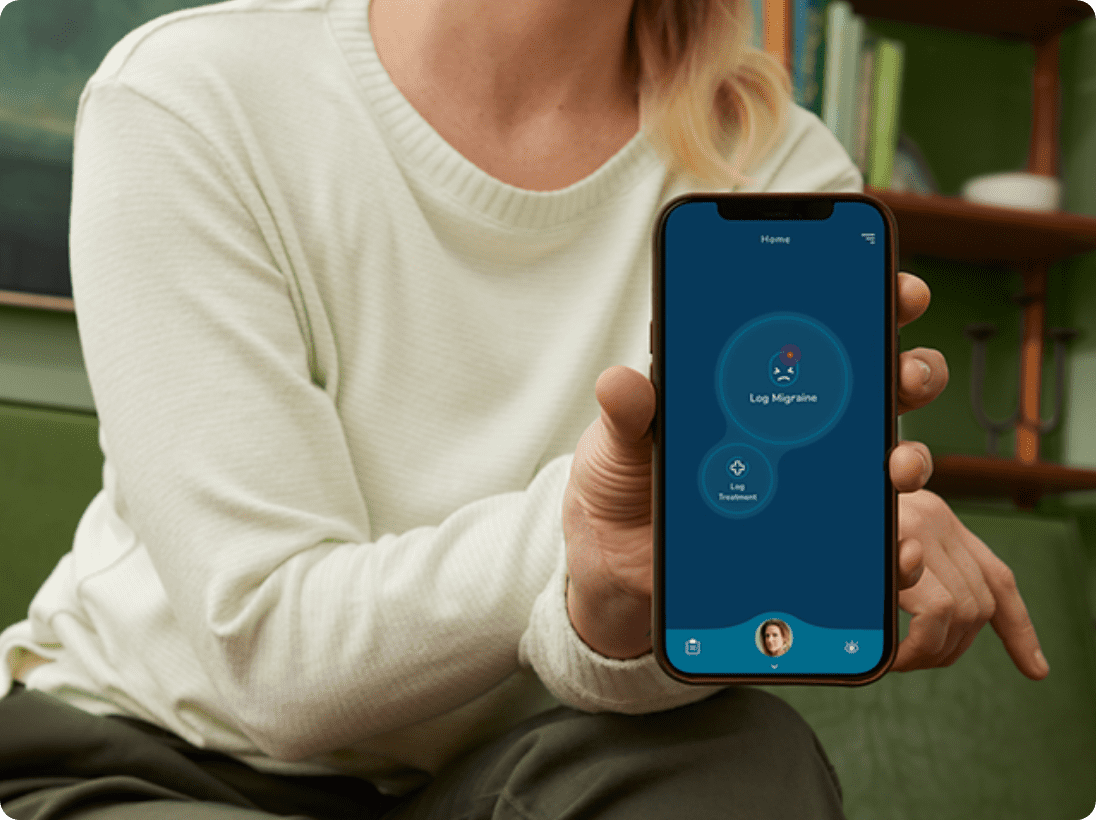 The Story Behind CeCe
CeCe was developed by CEFALY Technology as a free tool to help those with migraine meet life head on. CEFALY Technology is the maker of CEFALY, an FDA-cleared, wearable medical device that's clinically proven to help reduce migraine frequency and relieve migraine pain. You don't need to purchase CEFALY in order to use the CeCe app.
You may know CEFALY for its innovative medical devices, which are designed to provide a drug-free migraine treatment. But we're so much more. Since 2008, we've been building a global community of support and educational content for those experiencing the pain and disability of migraine disease. Now, after treating 2 billion migraines, we're excited to share CeCe with the world.
CeCe FAQs
CeCe is an intuitive migraine management app that allows you to better understand your life with migraine. CeCe helps you identify your triggers, see how your attacks evolve, recognize trends, track treatment effectiveness, and keep a detailed migraine journal.
CEFALY Technology, the maker of the CeCe app, is committed to your privacy and security. Information entered in the CeCe app is not shared with any third party. To learn more about the data we collect, what we do with it, and how we keep it safe, please read our full Privacy Policy.
On the app, go into your personal profile. Then scroll down to the email field and make your updates there. You can access your profile settings through the hamburger menu at top right.
You'll need to create a new account for the CeCe app. For security reasons, your CeCe login is separate from your cefaly.com login.
You can download the CeCe app on multiple devices and log in with your email address and password. Your unique information is stored securely in the app.
CEFALY is a breakthrough migraine treatment that can help improve your quality of life and free you from migraine pain. An easy-to-use medical device, CEFALY works to treat acute migraine attacks quickly and prevent future episodes. CEFALY is FDA-cleared, over-the-counter (no prescription required). Learn more at CEFALY.com.
No. The CeCe app is designed for use by anyone living with migraine, whether or not they use CEFALY.
This is totally up to you! We get that you may not be in the mood during a migraine attack. Feel free to log your migraine in real time, or wait until later. You can adjust the date and time of your migraine when you log it.
Simply tap your photo in the app and select a new photo from your photo library on your phone.
To delete your account, please send an email to info@cefaly.us with your request. Please note that when you delete your account, your migraine records will be deleted and cannot be retrieved. After you delete your acount, you may uninstall the app. If you wish to begin tracking migraine attacks again, simply download the app and open a new account.
Learn Additional Ways To Manage Your Migraines
Meet CeCe, The New Migraine App From CEFALY Technology
Strategies for Managing Migraine, Anxiety and Depression
10 Tips for Managing Chronic Stress and Migraine
Living Well When Your Have Migraine
How to Develop a Better Sleep Schedule for Migraine
Privacy Policy
CEFALY understands that the security of your private information is important and we take the protection of personal data that you provide on the CeCe mobile application (the "App") very seriously. This privacy policy ("Privacy Policy") describes how we collect, manage, use, protect and disclose the information that you may provide via App. By visiting our App, or by registering as a user of the on-line services that we provide (the "Services"), you agree to the terms of this Privacy Policy and to our Terms of Service as they may be amended from time to time. CEFALY ("we", "us", "our") means our entire company, including our United States [and Canadian] affiliates, subsidiaries and related companies.
Our App may contain links to third party websites that are not owned or controlled by CEFALY. This Privacy Policy only applies to information collected by CEFALY, and does not apply to any information collected by any third party. Accordingly, we recommend that you read the applicable third party privacy policies and terms for more information.
This App is intended for use in the United States and Canada (except in Province of Quebec) only.
Collection and Use of Personal Information
You can use our App without disclosing your personal data. You are not required to provide personal information as a condition of using our App, except as may be necessary to provide you with information, products or services at your request. If you request information, products, or services through the App, or ask us to resolve complaints or concerns, we may require certain information necessary to fulfill your request (e.g., your name, contact information, and other identifying information). Personal information that you provide may be used by CEFALY to provide you with information, such as educational and marketing information about our products. We may use your information for market research and other marketing purposes, and for the purposes specified in this Privacy Policy. Please do not submit any personal information if you do not want it to be collected.
We collect personal information only when you provide it to us, through registration, completion of forms or e-mails, as part the Services, inquiries or similar situations in which you have chosen to provide the information to us. If you choose not to provide any requested personal information, you may be unable to access certain areas of the App, such as password protected areas. We will retain control of and responsibility for the use of any personal information you disclose to us.
Data Processed by Us When You Use Our App
When You Create A CeCe Account
If you want to access data collected by your device, you must create a CeCe account. When you create an account, we ask for some personal information, including your email address and a password. Your email address will be used to log in to your account.
When You Add Information to Your Profile
You can customize your CeCe experience by adding other types of information to your account, such as: Name, Gender, Birthdate, and information about your personal migraine experience.
When You Record Data
Full use of CeCe requires that you record information related to your migraines, such as your pain intensity, your pain location, your symptoms, your triggers, your medication, your reliefs, your menstruation, etc.
When You Sync Your Device
When you sync your device through CeCe, data recorded on your device about your activity (including information about your symptoms and triggers) is transferred from your device to our servers. This data is stored and used to provide Services and is associated with your account. Each time a sync occurs, we log data about the transmission. Some examples of the log data are the sync time and date, and the IP address used when syncing.
When You Contact Us For Help
Whenever you contact CeCe for help, we collect your email address along with additional information you provide in your request so that we can provide you with assistance and improve the Services.
We may process behavioral analytical data, whether notifications (may include alerts, sounds and icon badges) are on or off, whether permission has been given to receive a newsletter and any health data you have provided. This is to personalize the user experience, customize your content and provide personalized offers to you, and to track the performance of the App and user behavior so that we can improve the user experience, and to improve, develop and provide a better personalized product and service. You can switch off data collection at any time in the App settings, but without that data, we will not be able to ensure that migraine information is accurate and personalized.
How We Use Your Data
By using, accessing and inputting information in the App, you agree that any and all migraine data (excluding personal information) that you have entered or may enter at a future time, into the App, as well as any data you may enter into related features or Services of the App (which are not present at the moment within the App, but which may be introduced at any time in the future), you consent to the compilation, processing, analyzing as well as anonymous disclosure of the resulting statistics to a third party.
(i) Where do we store your data:
We store your data (self-recorded data, phone sensor data and analytics data) in controlled cloud servers, and on some third-party servers that are used as CEFALY's service providers, such as AWS. Your data may be stored in a location outside your country of residence, including in the United States.
(iI) How is your data encrypted:
We encrypt all communications with Transport Layer Security (TLS) 1.2+. It ensures that nobody can look at the data exchanged between our servers and the App
Disclosure of Personal Information
CEFALY does not sell or rent your personal information to third parties. We may retain third party vendors to assist us to perform services on your behalf. Such third party vendors may be provided with access to your personal information to perform their obligations pursuant to contractual obligations with us, but for no other purpose. We may share your personal information with a company in connection with the sale or transfer of one of our product lines, business units or affiliates to that company. Any service providers are required by contract to use and protect your personal information consistent with this Privacy Policy. CEFALY reserves the right to disclose your personal information to respond to duly authorized information requests from governmental authorities or when otherwise required by law.
Use of Cookies
Cookies are used in order for us to improve the efficiency of your individual use of the App. Cookies are small text file identifiers that are sent to your web browser and stored on your device. Cookies allow the App to remember your device on return visits. This is particularly important for an app that requires you to sign in as it speeds up your access. We may use both session cookies that are deleted when you close your web browser and persistent cookies that may be used by the App on subsequent visits. When you use our App, we automatically receive the name of you internet service provider, the website that you used prior to our App, the websites that you visit from our App and your Internet protocol address. This information is not linked to personally identifiable information.
Most web browsers are set up to accept cookies automatically but you can change the web browser's settings to refuse new cookies, disable existing ones or let you know before new cookies are stored on your device. However, if you refuse or disable cookies, some of the App's functionality may be lost. We may also include web beacons (also known as web bug, pixel tag or clear GIFs) on our App or e-mails. Web beacons help us monitor the effectiveness of the App or a marketing campaign by measuring the activity of the App or how many users clicked on any elements of the App or opened an email. Web beacons do not automatically obtain personal information from you but can tell us when you have opened your email or visited the App. If you want to delete any cookies or web beacons that are already on your computer or stop cookies or web beacons being stored on your computer in the future, see the "Help" section of your web browser. For additional information about deleting or controlling cookies or web beacons, see www.aboutcookies.org. In addition, you may opt-out of interest based advertising by participating providers by visiting www.networkadvertising.org for details on how to opt-out.
Google Analytics
Our app and website use Google Analytics. Please refer to "How Google uses data when you use our partners' sites or apps" for further information (located at https://policies.google.com/technologies/partner-sites).
Do Not Track and Advertising Across Different Websites
We currently do not change our tracking practices in response to "do-not-track" signals or other similar mechanisms. Third parties that have content or services on our website such as a social feature, analytics service, or an advertising network partner, may obtain information about your browsing or usage habits. These third parties do not change their tracking practices in response to "do-not-track" signals from your web browser and we do not obligate these parties to honor "do-not-track" signals. To learn more about browser tracking signals and "Do Not Track," please visit www.allaboutdnt.com.
Security
CEFALY uses reasonable technical and organizational security precautions to protect your personal information from manipulation, loss, destruction or access by unauthorized persons. Any personal data that is provided to CEFALY by you will be encrypted in transit to prevent its possible misuse by third parties. Our security procedures are continuously revised based on new technological developments. Due to the nature of Internet communications, we cannot guarantee that such communications are 100% secure or error-free and disclaim that the information you provide us will remain free from theft, loss, or unauthorized access or use by third parties, despite our best efforts. You are responsible for maintaining the privacy of your own passwords and other special access numbers you might use to access the App.
Children
Children under the age of 18 are not the intended audience for the App without consent from a parent or guardian. In light of the importance of protecting children's privacy, we do not knowingly collect personal information from this age group without prior parental or legal guardian consent.
How to Edit or Modify Your Information
You may edit or modify any personal information or data that you have provided to CeCe from your CeCe account. If you remove migraine data from your account, it will no longer appear to you. Backups of that data will remain associated with your CeCe account in our archive servers.
How to Deactivate Your CeCe Account and Delete Information
You can deactivate your CeCe account by contacting info@cefaly.us from your user's email address. When you do, data that can identify you will be removed from the Services, including but not limited to your email and name. Backup copies of this data will be removed from our server based upon an automated schedule, which means it may persist in our archive for a short period, and to a maximum of 30 days. CEFALY may continue to use your de-identified information, including your birthdate and gender, after you deactivate your account. It is important to note that the identifiable data on the aforementioned backups is only deleted once the account is deactivated.
Canadian Users
Canadian users, except under certain circumstances defined by law, are entitled to access their own personal information collected by CEFALY by contacting us at info@cefaly.us. We may ask you to pay an administrative fee for accessing or copying your personal information, but will inform you of the anticipated charges (if any) and confirm that you want to proceed before processing your request. If you believe that the personal information about you that we have collected is incomplete or inaccurate, we will correct the information upon verification of the omission or error and of the identity of the person requesting the change.
California Residents
We do not sell your personal information to third parties for money or other valuable consideration. We do not share your personal information with unrelated third parties other than as part of a contract where they provide a service to us for the business and commercial purposes described in this Privacy Policy. California Civil Code Section 1798.83 permits users who are California residents and who have provided personal information (as defined in Section 1798.83) to request certain information about the disclosure of that information to third parties for their own direct marketing purposes. Note that CEFALY does not share your personal information with third parties for the marketing purposes of such third parties.
Updates to Privacy Policy
We reserve the right to modify our Privacy Policy at any time so please review the Privacy Policy each time you access the Website and App. Material changes will be indicated on the revised Privacy Policy. Any changes will be effective immediately as of the updated revision date indicated below.
Contact Us
Please contact us with any problems, questions or suggestions regarding our Privacy Policy at info@cefaly.us, or CEFALY Technology, Inc., 19 Old Kings Highway South, Darien, CT 06820 .
Last updated: May 3, 2021
Terms of Service
By using CeCe, you consent to our Privacy Policy
DISCLAIMER
The contents of this app (CeCe), such as text, graphics/infographics, images, and other material contained on the app ("Content") are for informational purposes only and do not, under any circumstances, constitute medical advice nor diagnosis; the Content is not intended to be a substitute for professional medical advice, diagnosis, or treatment. Please do not submit questions seeking medical advice or diagnosis to the email address provided on this app, as we would not be in position to provide you with medical advice or diagnosis. Always seek the advice of a physician or other qualified health provider with any questions you may have regarding any medical condition. Never disregard professional medical advice or delay in seeking it because of something you have read on any website.
Last updated: May 3, 2021 by CEFALY Technology